So I entered this years Pattern Review Sewing Bee! You wouldn't know that unless you follow me on Instagram (so if you missed it follow here), but that's my fault as I entered Week 1 at the very last minute. And by last minute I mean I cut and sewed my entry the night before the deadline, last minute. I'll be sure to go back and write a post about Week 1 which was to create a pencil skirt inspired by your favorite musician or piece of music. Gratefully I made it to Week 2 because I, like everyone, have been obsessed with sleeves this year so I love this challenge.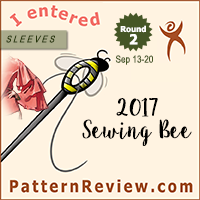 My first thought was to make the Katie Shirtdress by SewSewDef again but this time with the bell sleeves. Unfortunately, that plan had to be set aside as my family experienced the loss of of our eldest member, my grandmother. I needed a black dress to wear to her homegoing service. I have no idea why I didn't already have an all black dress in my closet, but I didn't. Since the three day trip home would only leave me with four days to sew, which wasn't enough time to sew both a black dress for the funeral and a shirtdress for this challenge. I decided instead of dropping out of the contest I would simply incorporate dramatic sleeves to my black dress.
I knew right away I would use McCalls 6886 as a base because it never fails. The trumpet sleeve of McCalls 7542 was a no brainer because I just love the drama of them. Thankfully I had a couple of yards of black scuba knit in my stash so no shopping was necessary.
If you're thinking "hmmm, that's a bit racy for a funeral", you're right! I mistakenly cut the hem for View A (above the knee) instead of View D (right at the knee). Unfortunately due to lack of time and fabric I simply pressed on with the project.
I ended up basically sewing View A of M6886 and adding the lower sleeve of M7542 View B. The inner hole circumference (the end you attach to the sleeve) was smaller that the sleeve hem circumference so I enlarged it to fit and simply attached it to the lower hem of the dress sleeve.
Aside from my error with the hem I really like the merger of the two patterns and would love it in another color. I just really hate I needed to sew it up for this reason. Still I appreciate that I could sew a dress for this occasion, because I can never find items (a black dress, white jeans, white dress) when I need them. I am sure I sewed this in less time (and definitely money) than I could have found and purchased a dress.
Pattern Number: McCalls 6886 and McCalls 7542
Pattern Sizing: 6-14, 14-22 (both)
Did it look like the photo/drawing on the pattern envelope once you were done sewing with it? Not really
Were the instructions easy to follow? Yes, for both patterns.
What did you particularly like or dislike about the pattern? I love 6886 it's tried and true. 7542 is becoming a fave
Fabric Used: Black Scuba from Micheal Levine
Pattern alterations or any design changes you made: Instead of hemming the sleeves I added the trumpet sleeve of View B