I can't remember when I saw this photo of Gwen Stefani in a fabulous Dolce & Gabanna white and black polka dot fitted dress, but when I saw it I immediately pinned it to my Inspiration Outfit board. Back in March, during one of Fabric Mart's precut fabric sales, I spotted and grabbed this cream and white scattered polka dot rayon spandex jersey with that dress in mind. Finally just last week the Polka Dot and Stripes Contest on Pattern Review gave me excuse/reason/push I needed to finally check this make off my list.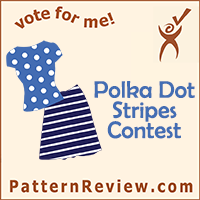 If you are a Pattern Review member (free or paid) and you like my dress, please vote for me here.
Though I love the D&G dress it is not a practical look for my everyday life. So this dress is more inspired by that look rather than a copycat version. Some of the obvious differences are I used a knit instead of (what looks like) a stretch woven and my fabric has scattered dots where the inspiration version is a grid.  I already knew that McCalls 7046 would give me the overall feel I was looking for because I've made it before (here). It is fitted, has a flounce and has a long sleeve view.
After some debate I opted for the short flutter sleeve over a long sleeve because I felt it balanced out the flounces at the hem. Speaking of the flounces I went with the double flounce for a little more umph!  I lengthened the dress by about 2″ before adding the flounce so the dress would fall a little longer and so the seam didn't hit me mid-derriere.
I have to mention one of my favorite features of this pattern, the ruching! As a apple shaped woman I've found ruching is great for distracting from the midsection and I especially love that here it is created by elastic in the seam allowance instead of by gathering (which I hate).
This piece was 5 yds, so I still have about 3 yards left! I have so many ideas for it!
What do you think I should make with those last three yards?
Don't forget to VOTE!
Pattern Description: Close-fitting, pullover tops and dresses have elasticized, ruched side seams and narrow hem. A: Flutter sleeves (wrong side shows). B: Elasticized short sleeves. C: Sleeveless. D: Long sleeves. C: Tiered flounces. D: Single-layer flounces.
Pattern Sizing: 6-14,14-22 I cut a 18 waist and hip but graded out to a 20 waist-it was too big.
Did it look like the photo/drawing on the pattern envelope once you were done sewing with it?Yes
Were the instructions easy to follow? I didn't follow them because I've made this twice before but they are clear.
What did you particularly like or dislike about the pattern? I love the double flounce and ruched midsection.
Fabric Used: A cream and black scattered polka dot rayon/spandex knit from Fabric Mart
Pattern alterations or any design changes you made: I added 2″ to the hem of the bodice. I ended up taking in about an inch from the armhole to the waist so I should've graded from a 16 bust to a 20 waist and hip.
Would you sew it again? Yes
Would you recommend it to others? Yes
Conclusion: A great flirty dress