It's that time again for all the best deals of the year on fabric, notions and patterns. Check back daily as I will be updating as I see new deals. Please share with me any deals you find in the comments and I'll update the post!
---
Closet Case Patterns – save here
Take 20% off almost everything in the shop and 30% off their online workshops use code THANKSGIVER18 at checkout! Great time to purchase the Clare Coat or Jenny Overalls.
---
Mimi G Style

All patterns just $5 here. See my Mimi Dress, Riri Swimsuit, and Katie Dress
---
Style Sew Me
Don't miss out on the limited number of reprints of previously sold out patterns like the Anitra Jumpsuit and Madison Cardigan. Save 40% off the entire site, here!
---
Kommatia Patterns
I love their patterns. See my Alice Dress, Ferri Bodysuit, Harry Dress, Beatnik Dress, and Cannes Bodysuit.
---
Megan Nielsen Patterns
Save 30% on patterns with code BLACKFRIDAY2018 (not valid on latest releases or packs) now thru Monday! I'm eyeing the Tania Culottes and the Ash Jeans.
---
Designer Stitch
Save 25% with code sale25. See my Shaki Dress, and Eden Jumpsuit.
---
ModKid
Save 40% off your order including the new Brooklyn dress for girls, tweens and women. Use code BLACKFRIDAY2018.
Great time to grab the Wren Dress or Leilani Romper
---
Fabric Mart

60% off SITEWIDE at Fabric Mart
---
Tie Dye Diva
Save 40% with code BLACKFRIDAY
---
True Bias

Save 25% with code THANKS2018 I may finally grab the Ogden cami and Lander pants!
---
Chalk and Notch
Save 20% off entire site with code holiday2018
---
Ensemble Patterns
Save 30% with code THANKSABUNCH
---
Makerist
---
LA Finch Fabrics

Save 35% using code Blackfriday35
---
Joann
See weekly ad here
Black Friday Doorbusters (Nov 21-23)
70% off Cozy Flannel, Snuggle Flannel, Christmas Cotton Fabrics
70% off almost all Christmas items (ribbons, ornaments, boxes, etc)
Buy 1 Get 3 Free Makers Holiday paper products
40% off Singer Sewing Machines
60% off Ottlite
60% off batting and foam by the yard
60% off Fiskars cutting tools
40% off Gingher cutting tools
40% off Irons
$5 14oz Holiday candles
Weekend Doorbusters (Nov 24-25)
70% off anti-pill fleece
70% off Blooming Holiday wreaths, Makers Holiday wall art
60% off apparel fabrics, pellon interfacing, novelty cotton
60% off sewing notions
50% off licensed character fabrics
40% off team fabrics
$9.99 24 ct glass ornaments
Buy 1 Get 3 Makers Holiday gift wrap
Holiday Deals (Nov 21- 28)
25% off total purchase coupon
75% off Maker Holiday clear fillable ornaments
50% off Blizzard Fleece
50% off Makers Holiday items (wall art, pillows, socks, throws, etc)
50% off Christmas Foodcrafting supplies
40% off apparel fabrics and pellon interfacing
40% off buttons and thread
30% off Trim
$1.99 Butterick patterns (27th & 28th only)
---
Hancock Fabric (via Michaels) save here

---
KnitPop
Save up to 40% off the whole site starting NOW (here)
---
Dutch Label Shop (shop here)
---
Plum Paper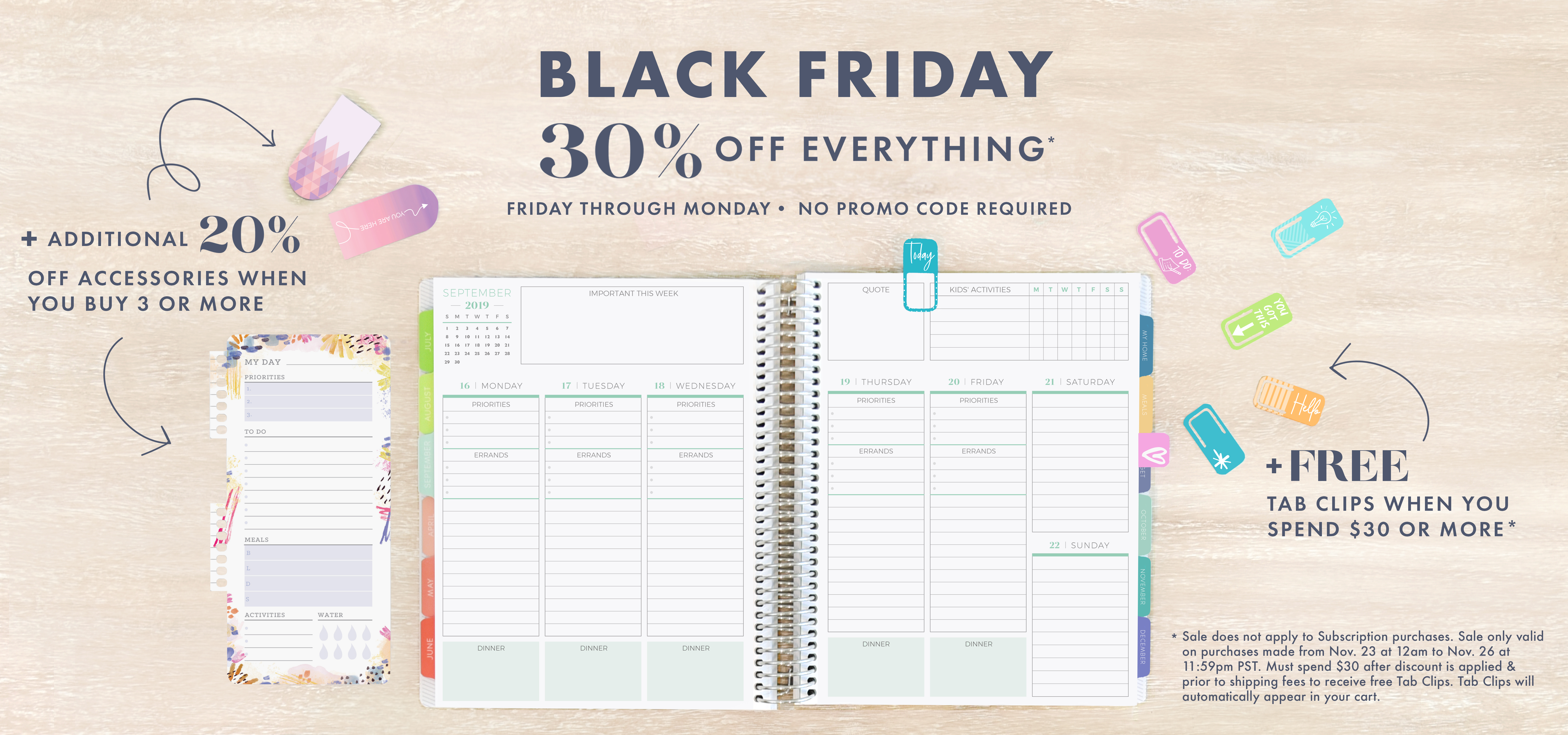 Yeah this one isn't sewing related at all, but as you know I'm a planner and this is my favorite planner. Plum Paper offers their planners in 3 sizes (A5, 7×9 and 8×11), 20 (TWENTY!) different layouts, dozens of covers and almost everything is customizable!