I love these pants!!! I've been looking for a go to work trousers pattern for some time now. While I've had some successes pants like Simplicity 8093 , Simplicity 8655 and McCalls 6515 none were perfect for work. S8093 is cropped which is great, but also a tad limiting in where/when I can wear them. Yes I could just lengthen them, but then that's not perfect (they are the perfect cropped pant though!). S8655 are easy to sew and I love the high waist, but I leaned more towards wearing them out casually than to work! M6515 was very close as it offers multiple leg options and I need to revisit it, but I remember it lacking pockets and it had a narrow waistband (which isn't my fave).
There are also a few patterns that I've been meaning to try like the Closet Case Sasha, Vogue 9032 and Vogue 1051. These slacks, Simplicity 1017, were also on this list, but now I can cross them off. So far they are definitely the go-to slacks winner!
I was hopeful about this pattern as it is a part of Simplicity's Amazing Fit line. This line of patterns includes separate pattern pieces for slim, average and curvy for pants as well as cup sizes for dresses and tops. They also provide detailed instructions for pattern fitting and 1″ seam allowances for room to adjust. Once you have achieved the perfect fit you can transfer the changes to the pattern pieces so that the next time you're pretty much guaranteed a perfect fit time after time.
These were a pleasure to sew and despite all the attention to fitting, these are one of the few pants patterns that fit me straight from the envelope. After basting the 1″ side seams and trying them on I realized I was a straight 18! Now this fabric has 4-way stretch, so in a non stretch fabric I would still cut an 18 but probably reduce the side seams to 1/2″ to add 2″ of ease. I'd also add 1″ to the back crotch seam to be safe. My only issue with this pair is the length. To have a length I could wear with heels (see pic), I only had enough length for a 5/8″ hem and in wide leg pants I love a deep 1-2″ hem. So next time I will definitely add 2′ for a 1″ hem or 3″ for a 2″ hem.
Check out my post on the Fabricista blog to see a little tip I give on interfacing the pocket facings.
Let me list some reason I love these so much; the rise, the 2″waistband, the side zip, the angled pockets and the full leg. There's also an option for a straight leg and those will be sewn soon! I need these in every color and pattern.
I used an Italian wool stretch twill from Fabric Mart (here) and I LOVE it. It has the perfect weight and drape for a full legged pant like these or A-line or circle skirt. And best of all there is a good amount of 4 way stretch (40% cross grain, 30% along grain), which would be great for a fitted pencil skirt or sheath dress. I think I may order more of this fabric! Did I mention it's in the 70% category?! Get yours here.
Share your go to pants patterns? I'm still game to try others.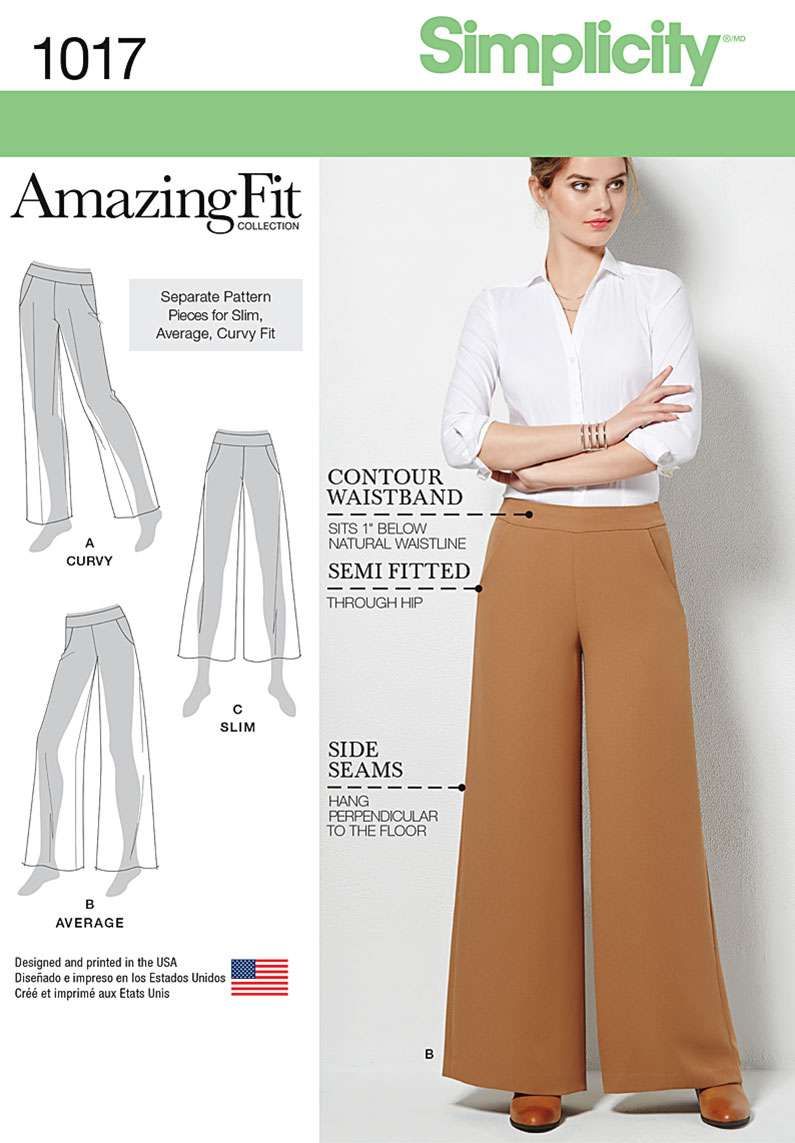 Pattern: Simplicity 1017(OOP)
Pattern Description:  Misses' Amazing Fit pattern features wide pant in two lengths and relaxed fit pant in one length. Pattern also includes separate pattern pieces for slim, average, and curvy fit. Simplicity sewing pattern.
Sizing: 6-14, 14-22 I sewed a 18 with not fitting adjustments.
Difficulty: 2/beginner
Fabric Used: Darkest Navy Wool Stretch Twill Suiting from Fabric Mart
Does it look like the photo/drawing on the pattern envelope? Yes
Were the instructions easy to follow?  Very, that's the great thing about Amazing Fit patterns. They talk you through the construction and fitting.
Likes: The front angled pockets, the wide leg, the instructions.
Dislikes:  They are a little short.
Pattern alterations or any design changes made:  None
Would I sew it again?  Oh yes! I need several more pair.
Would I recommend it to others?  Yes 100%